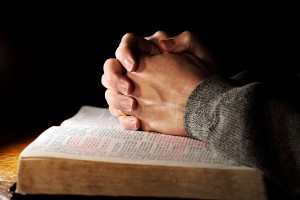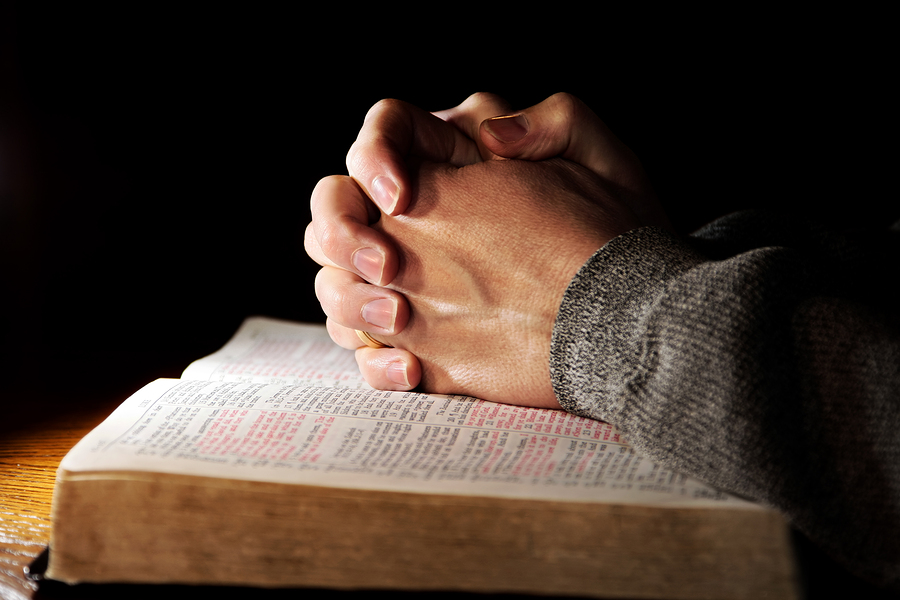 According to Saint John Damascene, prayer is "the raising of one's mind and heart to God or the requesting of good things from God". Unfortunately, we often overlook the importance of prayer in our lives, forgetting that every time we pray something happens. That "something" is an outpouring of grace which either affects us or those around us. In an attempt to provide some good examples of prayer, I've chosen 10 samples from the pages of the Bible. By studying these examples and incorporating them into our prayers, we'll be able to "beef up" our spiritual lives and grow closer to the Lord.
1. Abraham Intercedes for Sodom – One of the earliest Biblical examples of prayer can be found when Abraham interceded for the city of Sodom (Genesis 18:22-33). Standing before the Lord, Abraham pleaded with Him to spare the immoral city based on the fact that some holy people lived there. We all know people who have turned away from God and live an immoral lifestyle. Abraham's example reminds us that we should pray for their conversion and ask the Lord to be merciful.
2. Solomon's Prayer for Wisdom – When informed by the Lord in a dream to ask for something (1 Kings 3:5-14), Solomon didn't ask for riches or treasures, but requested an understanding mind so that he could discern good from evil. Pleased by this noble plea, God also granted him riches and honor. We often have our priorities in the wrong order and pray solely for temporal (or temporary) things. If we learn to focus more on spiritual goods, we'll find that the Lord will also provide for our material needs.
3. Prayer of Desperation – Found in Psalm 22 and later repeated by Jesus as He died on the Cross, "My God, my God, why have you forsaken me?" is a prayer familiar to many. It is a desperate plea for the Lord's assistance when all seems hopeless. We should not be ashamed to use these words, but rather look at them as a cry for help. Those who are prone to anxiety should become familiar with this prayer and not hesitate to use it when necessary. We all encounter those times when it feels as if we're facing our problems alone. Calling out to the Lord will allow us to experience His presence and feel the peace that only He can give.
4. The Tax Collector's Prayer – One of the simplest, but most eloquent expressions of true contrition can be found in the Lord's parable of the "Pharisee and the Tax Collector" (Luke 18:9-14). Praying in the temple, without lifting his eyes, this humble sinner prayed, "God, be merciful to me a sinner". Direct and to the point, we should make these words our own and pray them every day!
5. Saul's Question – Saul of Tarsus (better known as St. Paul) was deeply affected by his encounter with Jesus on the road to Damascus. During the 2nd of the 3 times that he relates this story (Acts 22:4-16), Paul mentions a question that he asked of the Lord. In reality, it is a prayer and one that we should pray frequently. "What shall I do, Lord?" (Acts 22:10) is something that we should ask God each day. Instead of telling the Lord what He can do for us, it would be nice to ask what we can do for Him. What is Your Will for me, Lord?
6. The Wedding At Cana – As Christians, we are encouraged to pray for one another. My favorite example of intercessory prayer in the Bible can be seen at the wedding in Cana (John 2:1-11). I especially like this example because of the Blessed Mother's involvement. There is a crisis – the wine has run out at a wedding feast and something needs to be done. Without being asked, Mary goes directly to Jesus and simply states, "they have no wine". He responds by performing His first miracle and turning water into wine. The moral of the story? Mary is always standing by, ready to take our needs to her Son!
7. The Magnificat – Based on several Old Testament verses, Mary's famous prayer (Luke 1:46-55) is a great example of humility and gratitude. Knowing full well that everything good in her is attributable to God, Mary responds to Elizabeth's praise by extolling the Lord's greatness, emphasizing her own lowliness and recalling His providence for the chosen people. St. Louis de Montfort loved this prayer and recommended that it be recited at solemn moments, such as after receiving Holy Communion.
8. Prayer of Abandonment to God's Will – When He prayed in the Garden of Gethsemane on the night before He died, Jesus gave us a perfect example of abandonment to God's Will (Matthew 26:36-46, Mark 14:32-42, Luke 22:40-46). Even though it's not always possible to know God's Will with certainty, appending the phrase "but not as I will but as You will" to our petitions ensures that we are submitting to His Will.
9. The Lord's Prayer – Asked by one of His disciples to "teach us to pray" (Luke 11:1), Jesus responded with the Lord's Prayer (Matthew 6:9-13, Luke 11:2-4). Often referred to as the "perfect prayer", the Our Father contains it all: praise ("hallowed be Thy name"), contrition ("forgive us our trespasses"), petition ("give us this day our daily bread") and submission to God's Will ("Thy Will be done"). We can NEVER go wrong by praying these words!
10. Forgiveness – Sometimes it's hard to find the words (or the desire) to forgive those who offend us. Since we know that we are always called to forgive, however, we must find a way. Here is a 10 word prayer first spoken by Jesus as He suffered on the cross. Remember it the next time you need to forgive someone. It expresses all that needs to be said! "Father, forgive them; for they know not what they do" (Luke 23:34).
The preceding examples, taken from the pages of the Bible, were designed to illustrate some of the qualities of effective and meaningful prayer. Humility, sincerity, and faith are important characteristics of prayers that are pleasing to God. Studying these examples can help us to enhance our prayers by incorporating some of the methods used by the holy men and women who have gone before us. By praying often and sincerely, we'll get closer and closer to the Lord until one day we'll be praying with the angels and saints in Heaven!