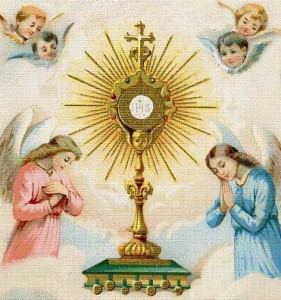 Have no anxiety about anything, but in everything by prayer and supplication with thanksgiving let your requests be made known to God. (Philippians 4:6)
Tonight at 7 PM Eastern time, I will be at the adoration chapel with Jesus in the Blessed Sacrament.  I would be honored to pray for all of your intentions.  If you have anything specific that you'd like be to present to Jesus, please comment to this post or email me (gary@followingthetruth.com).  I also encourage you to pray along with me (from wherever you are), even if its only for 5 minutes.
We often make the mistake of failing to pray about the problems and issues in our lives, instead choosing to worry about them or to try and solve them without God's help.  In the above excerpt from his Letter to the Philippians, St. Paul reminds us that the Lord is anxious for us to ask for His help.  Don't pass up that golden opportunity!
Please tweet, email, like and share this post with your friends, as I'd like to extend the offer of prayer to as many people as possible!
Peace!