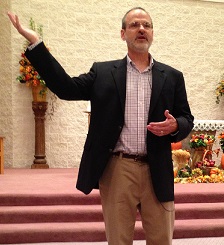 CONTACT GARY ABOUT SPEAKING AT YOUR EVENT


Catholic Speaker Gary Zimak travels the country sharing the "Good News" of Jesus Christ. Mr. Zimak is one of the most requested Catholic speakers at parishes and conferences throughout the United States and is best known for his inspiring talks on overcoming anxiety by embracing a closer personal relationship with Jesus Christ. Gary would be delighted to speak at your event and is ALWAYS willing to work within your budgetary limitations. To invite Gary Zimak to speak at your parish or conference (or to inquire about his availability), simply fill out the following form, including the date, location and desired subject of the talk. We will respond within 24 hours.
You may also book Gary Zimak through CMG Booking, the leading Catholic speakers agency in the United States:

CONTACT GARY WITH GENERAL QUESTIONS, COMMENTS OR PRAYER REQUESTS
For ANY comments, questions or prayer requests, please fill out the following form and we'll be in touch soon.