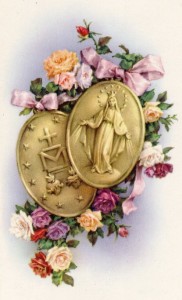 Do you believe in the power of Mary's intercession?  A few weeks ago, I was blessed to be able to visit the Miraculous Medal Shrine in Philadelphia.  Despite having worn a miraculous medal for many years,  I've been forgetting to turn to Our Lady as much as in the past.  In what could hardly be called a coincidence, I was contacted by Lizanne Magarity Pando (the Shrine's Director of Communications) who offered me a guided tour of the shrine.  While I was there, a special feeling came over me and I felt an increased devotion and love for my Mother. 
I've already seen some miraculous intervention in my life, due to Our Lady's intercession. If it's been a while since you've done so, "call" your Mom…she misses you!
Listen to Father Benedict Groeschel speak about his love for Mary and the Miraculous Medal.