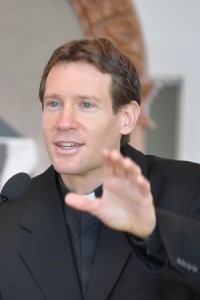 As we (all 1,400 of us!) head into the FINAL week of our 33 day Total Consecration retreat, I'm pleased to announce that Fr. Michael Gaitley (the author of 33 Days To Morning Glory) will be visiting the Following The Truth radio show TONIGHT (October 2nd) at 8 PM Eastern! Father Gaitley will spend 30 minutes with us, answering questions about Total Consecration and offering encouragement as we head into the final 5 days of our retreat. You can listen to the program (live, or by downloading the podcast after it airs) HERE.
Please let your friends know about this exciting opportunity to hear one of the foremost proponents of Marian Consecration. Even if you're not making your Total Consecration, this is a great chance to learn more about a devotion that was very important to Blessed (soon to be Saint) Pope John Paul II, Blessed Mother Teresa of Calcutta, St. Maximilian Kolbe and many others. In his charismatic and "down to earth" style, Fr. Gaitley will help us understand the importance of accepting Mary as our spiritual mother and how she can draw us closer to Jesus!
To Jesus Through Mary!