The Most Unique Parish Mission You Will Ever Experience!
Pray, Hope and Don't Worry!
Led By Gary Zimak, The Leading Catholic Speaker On Anxiety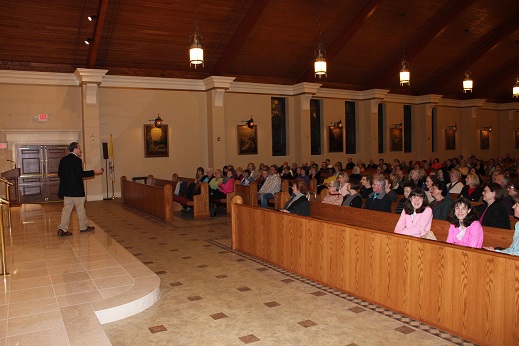 Based on the famous quote from St. Padre Pio, this 3 day parish mission will help you to STOP WORRYING and focus on Jesus and His promises. Using Scripture passages and advice from several of his books, Gary will teach you how to BREAK FREE FROM ANXIETY and experience peace in your life!
Day 1: Getting Personal With Jesus
Day 2: From Fear To Faith
Day 3: You Can't Walk On Water If You're Sitting In The Boat!
"Thank you so much again for a wonderful parish mission, the people can't stop talking about it. I have received many, many compliments and praises!" (Fr. John Picinic, Pastor, Holy Family Parish, Sewell, NJ)
"In a very humble, reverent and lighthearted way, Gary Zimak helped my parishioners come to understand that Jesus Christ desires us to move from 'fear' to deeper 'Faith' in Him." (Fr. Mark Ledoux, Pastor, Saint Peter Parish, Carencro, LA)
"God called Gary to evangelization for a reason!" (Dr. Sue Ellen Nolan, Coordinator of Adult Faith Formation, Our Lady Of Light Catholic Community, Ft Myers, FL)
Here's a sample of Gary Zimak's Pray, Hope and Don't Worry Parish Mission
To bring the Pray, Hope and Don't Worry parish mission to your parish, contact Gary Zimak by phone (856-220-6131) or email (gary.e.zimak@gmail.com).