Order Now From Amazon!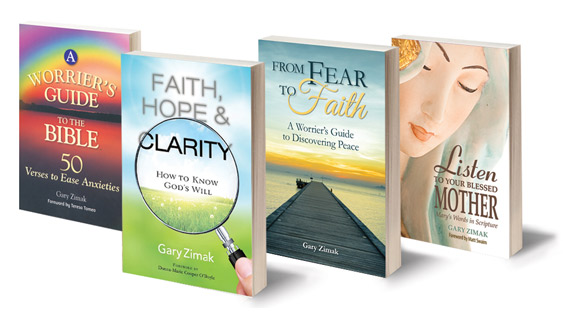 Faith, Hope, and Clarity
What does God want me to do TODAY?

What does God want me to do TOMORROW?

What does God want me to do FOR THE REST OF MY LIFE?

Faith, Hope, and Clarity: How To Know God's Will (March 2015)
*** Pre-order TODAY! ***
"Knowing and living God's will is the most important thing you could ever discover, and Gary Zimak's book will help you do just that!"
Fr. Larry Richards, Founder of The Reason for Our Hope Foundation
"The need for clear, orthodox Catholic knowledge is crucial for understanding the truth of Jesus Christ and his way of life. The next step is to discern among many good choices what is conducive to accomplishing the will of God for each of us individually. Gary Zimak shows how knowing God's will opens up great adventures that give God greater glory and praise in everything we do!"
Fr. Mitch Pacwa, SJ, author of The Holy Land: An Armchair Pilgrimage
"This earthly life is a continual series of forks in the road, each requiring a decision to proceed in one direction or another. We all know how difficult, even scary, at times, such choices can be. That's why Gary Zimak's astute and trustworthy advice in Faith, Hope, and Clarity is so timely and beneficial. In its pages you'll learn to ask the right questions, seek the best goals, and knock on those doors that God is just waiting to open wide for you."
Patrick Madrid, host of The Patrick Madrid Show and author of Now What?
"Faith, Hope, and Clarity is an extremely helpful and practical guide for discerning the will of God and fulfilling one's mission in life with confidence and peace. Filled with personal examples and stories from the Bible, Gary Zimak has put together a veritable guidebook for anyone who has ever struggled with knowing the will of God. As a priest, I plan on using this book in my pastoral ministry!"
Fr. Donald Calloway, MIC, Author – Rosary Gems: Daily Wisdom on the Holy Rosary
"The title of this book really says it all. Faith and hope in the Lord are at the top of the list when we're searching for and trying to fulfill God's will in our lives. But a little clarity along the way can't hurt either. Gary helps you find faith, hope, and clarity indeed. But you'll also learn why it's not all about the destination but also the journey itself."
Teresa Tomeo, Motivational Speaker, Best Selling Author and Syndicated Catholic Talk Show Host
"There has never been a time in history when our lives have been more inundated with voices—the world, the flesh, and the devil—yelling at us, trying to convince us what we must do to be happy. So what is a person to do if in the midst of this cacophony he or she wants to be faithful to God, to one day stand before Him without embarrassment? In Gary Zimak's fine book, we have a clear and trustworthy road map for discerning the simple and difficult steps of hearing God's will for our lives."
Marcus Grodi, President/Founder of The Coming Home Network International
"God cares about you. He cares about the decisions you need to make. He wants to reach you and lead you through the noise and distractions of this life to peace and union with Him. Gary's book reveals this reality and will help you to gain practical insights into the wisdom of St. Ignatius' rules of discernment regarding how to better hear and follow the movements of God in your soul."
Dan Burke, Founder of the Avila Institute for Spiritual Formation and Executive Director of EWTN's National Catholic Register
From Fear To Faith
"Scripture tells us that 'fear of the Lord is the beginning of wisdom.' But what kind of fear and how much fear is too much when it comes to our relationship with God and our efforts to live our lives as Catholic Christians? Drawing from his own personal struggles Gary Zimak combines experience with the expertise of solid Church teaching and God's Word to address these important questions and more in this book. Given the many challenges facing believers today, this book is a must have for any one serious about becoming the person the Lord wants them to be."
Teresa Tomeo
Motivational Speaker, Best Selling Author
Syndicated Catholic Talk Show Host
www.teresatomeo.com
"With vivid clarity, honesty and thoughtfulness, Gary Zimak draws from Sacred Scripture, practical wisdom, endearing personal stories, and timeless devotions to show how unwavering trust in the power of God's love casts out all fear, heals wounds of sin and division, and opens our hearts to God's will in our lives. This book is a must read for anyone who wants to take their faith to the next level—who is "stuck" in the abyss of fear and yearns to ascend toward the summit of enduring peace."
Deacon Harold Burke-Sivers,
EWTN series host, author, and director of Dynamicdeacon.com
"You'll laugh, you'll experience relief, and your faith will become fortified. From Fear To Faith: A Worrier's Guide To Discovering Peace is a very unique book guaranteed to put you at ease. Through a heartfelt conversational approach, Gary Zimak underscores the necessity in encountering Jesus to fully experience the joy of the gospel. Zimak offers solid no-nonsense proof of why worrying is detrimental to the health of body and soul and provides a doable step by step plan to overcome worry and fear. Great for laity, priests, religious, and ministries—highly recommended."
Donna-Marie Cooper O'Boyle,
EWTN TV Host, speaker, and author of numerous books including: The Miraculous Medal: Stories, Prayers, and Devotions and Catholic Mom's Cafe': 5-Minute Retreats for Every Day of the Year www.donnacooperoboyle.com
"Jesus said that fear is useless and what is needed is trust. Yet how do we move from ordinary life in our age of anxiety to that trusting life of faith? Gary Zimak shows the way in steps even I can follow. You'll come to treasure this book, but don't just keep it to yourself. Buy copies for your friends and family members who need it."
Mike Aquilina
EWTN Television Host and author or editor of more than forty books on Catholic history, doctrine, and devotion.
"Gary Zimak has created a masterpiece. This book is a sincere, energetic, and practical source of encouragement to all of us who have ever struggled with self-doubt or fear. It's an indispensable resource for the journey of our lives. Read it and allow yourself to be transformed. The peace of the Lord awaits!"
Kevin Lowry
Chief Operating Officer, The Coming Home Network International and author of Faith at Work: Finding Purpose Beyond the Paycheck
"One of my favorite passages in the New Testament is when Jesus tells his apostles the following: "In the world you have troubles; but be of good cheer, I have conquered the world" (Jn. 16:33). There is no doubt, as Jesus affirms, that we live in a troubled world that could give us much to worry about. Yet, our faith in the promises of Christ gives us the ability to overcome our fears and anxieties. In From Fear to Faith Gary Zimak gives both practical advice and biblical examples for helping us to have total confidence and trust in the goodness of our loving God. I highly recommend this book to all!"
Fr. Donald Calloway, MIC, STL
Author – Marian Gems: Daily Wisdom on Our Lady
"From Fear to Faith" is a must read for anyone plagued by worry. Gary's confidence and enthusiasm for the truth of Christ's love, power and desire to release us from fear are contagious. Combining his own experience with sound psychological wisdom and solid spiritual insights, Gary gives us clear steps to journey out of the prison of fear and into a life of faith and joy!"
Allison Ricciardi, L.M.H.C.
Licensed Mental Health Counselor
Founder of CatholicTherapists.com and TheRaphaelRemedy.com
"In conversational style, Gary masterfully weaves his personal experience with significant anxiety/fear with the gifts of the Catholic Church to forge a path to healing in From Fear to Faith: A Worrier's Guide to Discovering Peace, showing us how to "…let Jesus do most of the work." Whether you are an anxiety/fear sufferer, or a health care provider, or a priest/religious seeking resources, this book is for you! From Fear to Faith is definitely my newest go-to aid to bolster my professional practice, and to help those in need!"
Staci Gulino, MSN, APRN, PMHNP-BC
Psychiatric Mental Health Nurse Practitioner
On-Air Host, Faith & Good Counsel/Wake Up Louisiana (Catholic Community Radio)
Print Version
Kindle Version
A Worrier's Guide To The Bible
"While there have been many apologetics books written about defending and explaining various doctrines and beliefs, I don't know of any book that tackles a topic so timely and familiar to so many of us. This book is a keeper; one to keep on the night stand or on the kitchen table, close enough to grab when we need that daily dose of knowing that God is nearer than we think."
(Teresa Tomeo, author, syndicated Catholic talk show host, and motivational speaker)
"Worrying robs us of all the goodness God wants to pour out upon us in the present moment. Let Gary Zimak guide you through the Bible in a truly creative way so that you can live a worry free life."
(Matthew Kelly, New York Times bestselling author of Rediscover Catholicism and The Four Signs of a Dynamic Catholic)
"Ask most of us if we worry, and we'll share with you our laundry list of concerns about everything from our families, to our work, to the future and beyond… it's a burden shared by even the most faith-filled among us. That's why "A Worrier's Guide to the Bible" by Gary Zimak has such great relevance for anyone living in today's multi-tasking world. Employing the timeless truths of scripture in a way that is fresh and current for today's spiritual seekers, this book should be a "go to" resource for anyone in search of true peace amidst life's greatest challenges."
(Lisa M. Hendey, Founder of www.CatholicMom.com and author of A Book of Saints for Catholic Moms)
"Gary offers a personal, down-to-earth approach to something we all wrestle with. He shares from his own experience and from Church teaching in an approachable, engaging style. Worry is a universal habit, and I'm happy to recommend A Worrier's Guide to the Bible to anyone who wants to worry less and trust God more."
(Sean Herriott, Host and Managing Editor of Morning Air on Relevant Radio)
Print Version
Kindle Version
Listen To Your Blessed Mother
"Biblical, personal, engaging, and thought provoking are just a few words that come to mind when reading this wonderful book! The Virgin Mary truly is our BLESSED Mother, and listening to her words in Scripture can help us to become blessed, too. Gary Zimak has done a great service for both Catholics and non-Catholics in offering a book that unpacks the biblical words of Mary in a very conversational and easy-to-follow style. The reflection questions and points to ponder at the end of each section will be of great benefit to the reader, too! I highly recommend this book!"
(Fr. Donald Calloway, MIC, STL, Author – Under the Mantle: Marian Thoughts from a 21st Century Priest)
"Listen to your Mother! How many times did we hear those words growing up? How many times did we roll our eyes and ignore the sage advice only to find out later on that Mom indeed did and does know best, especially our Blessed Mother. Now, straight from Scripture, Gary Zimak has given us even more reason to pay close attention to what our Mother, as in Mary has to say about living a grace filled life in this world so we can be with her and her son in the next. This book will definitely bring you closer to the heart of Christ through the Immaculate Heart of the Mother of God."
(Teresa Tomeo,Syndicated Catholic Talk Show Host,Best Selling Catholic Author)
"In Listen to Your Blessed Mother, using Scripture and personal stories, author Gary Zimak takes us by the hand and unambiguously leads us to a greater appreciation of our Mother in heaven so that we might strive to imitate her virtues while allowing Mary to take us by the hand to her Son Jesus. Highly recommended!"
(Donna-Marie Cooper O'Boyle, EWTN TV Host and author of sixteen Catholic books including The Miraculous Medal: Stories, Prayers, and Devotions)
"With candor and simplicity, Gary Zimak reveals the power of Mary's words in Sacred Scripture. No matter where you are in your spiritual life — or in your relationship with the Blessed Mother — this book will help you find new meaning and guidance in her words: words that Zimak shows are applicable to any of the problems or decisions you face each day."
(Vinny Flynn, Author of 7 Secrets of the Eucharist, 7 Secrets of Confession, and 21 Ways to Worship)
"When I was given an opportunity to review Listen to your Blessed Mother, I hesitated only because of the full plate I was dealing with at the time. When I finally dove into this wonderful book, I realized that Gary Zimak has written a beautiful love story about our Blessed Mother and one which needs to be shared with everyone. His description of his growing love of Mary from his childhood to the powerful impact her intercession has had on his life as an adult is riveting. His use of scripture about the Blessed Mother and the few words spoken by her helps the reader share in her life and purpose. The reflection questions at the end of each chapter challenge us to grasp the role of the Blessed Mother in our own lives. I strongly recommend this book!"
(Randy Hain, author of Along the Way: Lessons for an Authentic Journey of Faith and co-founder of Integrated Catholic Life eMagazine)
"Jesus is our brother, and so his Father is our Father, his mother is our mother. How sad that so few Christians know the perfect maternal love that God has given us in his family. Jesus tells us beloved disciples, 'Behold your mother.' What a sweet command! And Gary Zimak has made it sweeter still."
(Mike Aquilina, EWTN host and author of more than 30 books on Catholic history, doctrine and devotion)
"Gary has given us great insights about our Blessed Mother Mary in Scripture which makes this not only a wonderful book for Catholics but also a great resource for evangelizing those outside the Church. This is definitely a book you can share with your evangelical friends to help them come to know and love our Mother Mary."
(Gail Buckley, Founder & President. Catholic Scripture Study International)
"It's such an obvious way to follow Jesus through Mary, that I'm surprised this book was not written before. While some think going directly to Jesus is the fastest and surest way, Gary shows us how wrong that thinking is. He shares his own zig-zag journey to Mary as a way to grow closer to Christ. Though Mary in the Bible, Gary helps us to relish her role in salvation history, reflect on her life, and embrace her love for us."
(Patti Maguire Armstrong, award-winning author and managing editor and co-author of Ascension Press's Amazing Grace Series)
Print Version
Kindle Version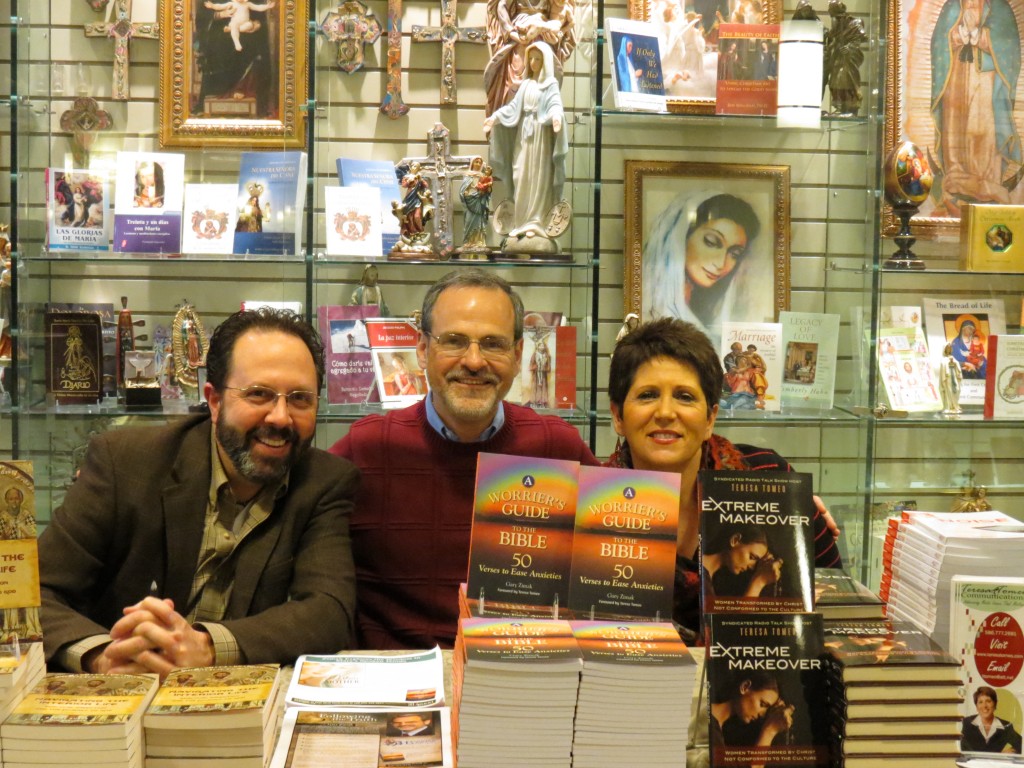 Gary Zimak (center), signs copies of A Worrier's Guide To The Bible along with author Dan Burke (left) and author and radio host Teresa Tomeo (right) at the Basilica of the National Shrine of the Immaculate Conception in Washington, DC.