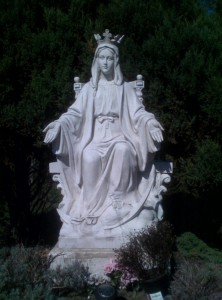 "Hail full of grace, the Lord is with you." (Luke 1:28)
On this day, the Church celebrates the birth of Mary, the Mother of God. She is a great gift, given to each one of us by Jesus (John 19:26-27) as He suffered and died on the cross. If you haven't already done so, today would be a good day to accept the gift of the Blessed Mother into your life. She is standing by, ready to lead you closer to Jesus. Tell her you love her, thank her for saying "yes" to God's request, and be sure to tell her your needs. She wants to hear about your problems and will take them to the Lord, just as she did at the wedding in Cana (John 2:1-11).
I love you, Mom…Happy Birthday!