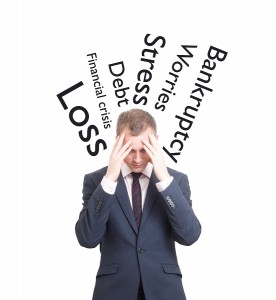 I got to thinking the other day and I came to a surprising realization…
I don't worry anymore!
If you have heard me speak or read my books, you'll understand why this is a monumental occurrence. It is a well known fact that I have been a severe worrier for most of my life. While I credit my anxiety with drawing me closer to the Lord, the act of worrying was having the opposite effect. The more I would worry, the less I would trust God. Now, despite two years of full time work as a Catholic Evangelist (with no guaranteed salary and literally living month to month), I have found myself in a position that I never thought possible. I don't worry anymore!
So, what changed? How was I able to finally break free from worrying? The answer will probably surprise you, as it did me. For many years, I tried to stop worrying. I made up my mind many times over the years that I was going to "Let Go, Let God", "Be Not Afraid" and "Let Not My Heart Be Troubled". And I failed, and failed again and failed many times after that. It wasn't until some time not that long ago that I realized that I was trying too hard. I know that it sounds crazy, but the reason that I couldn't stop worrying is that I was trying too hard not to worry!
Before you think that Gary has officially lost his mind, let me finish the thought. I was trying to stop worrying by using the "mind over matter", "positive thinking" approach and that's why I failed. Even though I supplemented this method with a healthy dose of prayer, Bible reading and the Sacraments I couldn't stop worrying. Then one day the answer dawned on me. I was trying so hard that I wasn't letting Jesus help me. As is the case with most people who like control, I was so determined to fix the problem on my own that I wouldn't let anyone, including the Lord, help me. Once I stopped trying so hard and let Jesus do the "heavy lifting", my worrying decreased dramatically. Don't get me wrong, I still experience fear and concern. These feelings are normal and can even be helpful, as they sometimes let you know that it's time to take action. Worrying, on the other hand, is a useless and unproductive response to fear. While there are several correct ways to respond to fear, your overall objective should be to draw near to Jesus. He is the ultimate answer to any problem or difficulty that arises in your life.
If you feel that you're too weak to give up worrying, you're probably right. I'm in the same category. The good news is that the Lord knows that we're weak and that we can't just force ourselves to stop worrying. Instead, He wants us to stop trying to do it on our own and let Him help us. Take it from me, my friends, the easiest way for you to break free from anxiety is by focusing less on giving up worrying and more on Jesus. Doing this has made a huge difference in my life and has finally allowed me to stop worrying.
So where do you start? You start by speaking with Jesus daily and asking Him to take control of your life. Make it a point to read the Bible each day, even for a few minutes. The daily Mass readings are perfect for this. Additionally, receive the sacraments of Holy Communion as often as possible. Finally, turn to the Blessed Mother and ask her to assist you. As you grow closer to the Lord, your worrying will begin to decrease. If you need more assistance, I'm excited to announce that my next book, From Fear To Faith: A Worrier's Guide To Discovering Peace (coming in August 2014 from Liguori Publications) will offer a step by step method for overcoming worry in your life. It's a book designed for those of us who are weak and can't do it on our own. Be sure to sign up for my monthly e-newsletter (in the sidebar to the right) for more details, including how to pre-order the book. I've also developed a new talk, "How To Stop Worrying TODAY" that I'll be presenting in parishes around the county. Contact me to find out how to invite me to speak at your parish.
Don't lose hope, my friends. I finally stopped worrying and you can too. Jesus is the answer and He is waiting to help you!