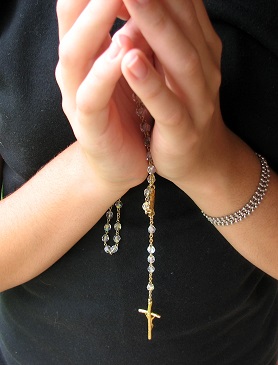 First of all, then, I urge that supplications, prayers, intercessions, and thanksgivings be made for all men. (1 Timothy 2:1)
Recently, I have been receiving many requests for prayers. Through social media, email and verbal communication I've been hearing of sick children, unexpected trips to the ER, cancer diagnoses, anxiety and every other ailment imaginable. Whenever I discover that someone is suffering or in need of prayer, I immediately say a prayer and add long term requests to my official prayer list (a book that I carry to daily Mass and adoration). Even though I know that every prayer is effective in some way, I've been feeling that I want to do something more. I want you to know that I'm praying so that when you're sitting in the ER, a doctor's office or your house, you realize that you're not alone and that you are being prayed for. In addition, I want to give you a chance to ask for my prayers.
Every day at daily Mass and in my rosary, I remember all those who have asked for my prayers. In addition, each Saturday and Sunday , I pray for these individuals before Jesus in the Blessed Sacrament. Do you need prayers? Would you like to be added to my list? Email me and let me know your needs and I will add you to my official list. In addition, always feel free to contact me on Facebook or Twitter and request prayers.
Please remember that no matter how hopeless a situation looks or how helpless you feel, you can always pray and it will always be effective. Even you might not get exactly what you want or get it as fast as you like, God hears and responds to every prayer. In addition, take comfort in the fact that I'm always willing to pray for you…
You are not alone!