Gary Zimak is a dynamic and popular Catholic speaker at parishes and conferences throughout the United States and Canada. He is recognized as the leading Catholic speaker on overcoming anxiety through faith in Jesus Christ. One of the most popular Catholic speakers in the New Evangelization movement, Gary has led thousands of people closer to Christ through his parish missions, talks and retreats.
Catholic Speaker Gary Zimak in Action!
From various Parish Missions and Retreats…
Pray, Hope and Don't Worry (a parish talk)…
What If Mary Said, "No"? (a Marian talk)…
Be Not Afraid…To Homeschool! (for homeschooling audiences)…
Legatus business group talk (audio only – click image to listen)…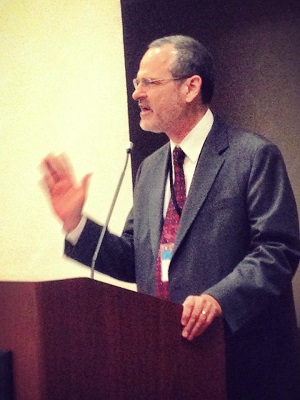 Gary's Speaking Topics
As a lay Catholic who is "on fire" for his faith, Gary Zimak will present an enthusiastic and convincing witness for your audience. Gary delivers the authentic substance of the Catholic Faith in an easy to understand format, spoken by an ordinary "guy in the pew" with a touch of humor! While he would be happy to design a custom talk to meet your needs, Gary's most popular topics include:
From Fear To Faith- Are you tired of worrying? After struggling to overcome anxiety for many years, Gary Zimak has learned that Jesus Christ is the ultimate answer to winning the battle. In this talk, based on his best-selling books A Worrier's Guide To The Bible and From Fear To Faith, Gary will share his step by step approach for moving from anxiety to peace!
What Does God Want Me To Do? – As someone who went from a secure career as a project analyst to an uncertain future as a Catholic lay evangelist, Gary knows what it takes to discern God's will. How do I know what the Lord is calling me to do? How can I learn to hear Him speak in a noisy world? How can I learn to trust in His providence? All these questions (and more) will be answered in this talk, based on Gary's own personal journey and detailed in his book Faith, Hope, And Clarity: How To Know God's Will. You'll learn that it IS possible to experience peace in the midst of uncertainty and that it can be found by discerning and living God's will!
Pray, Hope and Don't Worry! – Based on the famous quote from St. Padre Pio, this talk will help you to STOP WORRYING and focus on the Lord and His promises.  Using passages from Scripture, the writings of the Saints and his book A Worrier's Guide To The Bible, let Gary teach you how to BREAK FREE FROM ANXIETY and experience peace in your life!
Walking By Faith – Pope Francis' first encyclical, "Lumen Fidei" (The Light Of Faith), provides great insight into what it means to "walk by faith" (2 Corinthians 5:7). Rather than simply stumbling in the dark, faith is a light which can guide our steps. Using layman's terms, Gary will unpack the Holy Father's message and allow you to put it into practice in your own life. Letting faith guide our lives will remove the uncertainty and help us to follow the Lord's will.
What If Mary Said "No"? - We often assume that Mary had to say "yes" when asked to become the Mother of the Savior.  In reality, the Blessed Mother's assent was a conscious choice on her part.  In this talk, based on Gary's book, Listen To Your Blessed Mother, discover how Mary was the ultimate disciple and how she can help us all to become better Christians.
Real Men Love Their Mother!- Designed for men, this talk emphasizes the fact that devotion to our heavenly mother is not just for women. Just as Jesus loved and respected His Mother, men (as well as women) are called to love and respect Our Lady. Based on personal experience, Gary will stress the need for a personal relationship with Mary. Find out why it's manly to pray the rosary and wear a scapular or miraculous medal and how Marian devotion will lead us closer to Jesus!
To Jesus Through Mary- After consecrating his life to Jesus through Mary in 2011, Gary has experienced incredible graces and is anxious to share the amazing power of Total Consecration with others. In the past 2 years, he has led over 2,000 people through the preparation for Total Consecration (using the method popularized by Saint Louis de Montfort) on his nightly radio show and has become well known as a promoter of this devotion. In this talk, Gary will explain the key concepts of Marian consecration and how it will ultimately bring you closer to Jesus. You'll learn about the Marian spirituality of Saint Maximilian Kolbe, Saint Louis de Montfort, Saint John Paul II, Blessed Mother Teresa of Calcutta, Archbishop Fulton Sheen and others. More importantly, you'll discover how making Total Consecration can change your life forever!
Unleashing The Spirit - Do you allow the Holy Spirit to work in your life? Sadly, many Catholics don't fully comprehend the power of the Holy Spirit and how His gifts can transform our lives. Gary will explain how understanding and channeling the gifts of the Holy Spirit changed him from a lukewarm and cowardly Catholic to someone who is ALIVE in the Spirit! If you're tired of being discouraged and living in fear, this talk is for you. Learn how to unleash the Holy Spirit in YOUR life and get ready for miracles to happen!
"Be Not Afraid" (To Homeschool)! - We're all familiar with this phrase made famous by Jesus (John 6:20) and popularized in recent times by Blessed Pope John Paul II, but many homeschooling parents cling to these three words on a daily basis. In this talk (designed for a homeschooling audience), Gary will share some of the techniques that he and his wife Eileen use to combat the anxiety of the homeschooling experience. Since both Gary and Eileen are involved in teaching their children at home, they know first hand that a strong faith plays a big part in a peaceful homeschooling experience. Drawing from his best-selling book A Worrier's Guide To The Bible, the writings of the Saints, the Catechism of the Catholic Church and the Bible, you'll find that it is possible not to worry…even if you're homeschooling!
Homeschooling…Taking The Plunge! – Based on his experience with his children, Gary will explain the process he and his wife went through in attempting to decide whether homeschooling was right for them. Somewhat unusual due to the fact that that the decision wasn't made until his twins were entering into the seventh grade, this is a lesson in hearing God speak and proceeding even while afraid. Not just for a homeschooling audience, this talk will illustrate how listening to the Lord through prayer, reading and the advice of others, can lead us down a surprising path and yield great fruit!
To inquire about Gary's availability for your event or to request a custom topic, contact us.
Additional highlights from talks by Gary Zimak