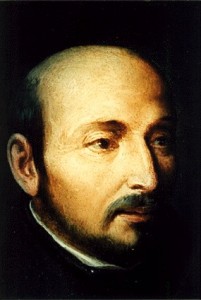 Today's meditation focused on the 3 Classes of People. Let's look at how Saint Ignatius describes them in the Spiritual Exercises, preceded by 3 preludes:
First Prelude. The first Prelude is the narrative, which is of three classes of men, and each one of them has acquired ten thousand ducats, not solely or as they ought for God's love, and all want to save themselves and find in peace God our Lord, ridding themselves of the weight and hindrance to it which they have in the attachment for the thing acquired.
Second Prelude. The second, a composition, seeing the place. It will be here to see myself, how I stand before God our Lord and all His Saints, to desire and know what is more pleasing to His Divine Goodness.

Third Prelude. The third, to ask for what I want. Here it will be to ask grace to choose what is more to the glory of His Divine Majesty and the salvation of my soul.
First Class. The first Class would want to rid themselves of the attachment which they have to the thing acquired, in order to find in peace God our Lord, and be able to save themselves, and they do not place the means up to the hour of death.
Second Class. The second want to rid themselves of the attachment, but want so to rid themselves of it as to remain with the thing acquired, so that God should come where they want, and they do not decide to leave it in order to go to God, although it would be the best state for them
Third Class. The third want to rid themselves of the attachment, but want so to rid themselves of it that they have even no liking for it, to keep the thing acquired or not to keep it, but only want to want it or not want it according as God our Lord will put in their will and as will appear to them better for the service and praise of His Divine Majesty; and meanwhile they want to reckon that they quit it all in attachment, forcing themselves not to want that or any other thing, unless only the service of God our Lord move them: so that the desire of being better able to serve God our Lord moves them to take the thing or leave it.
You can listen to the podcast here.