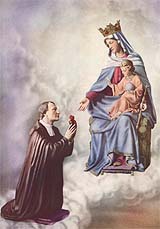 As you may be aware, on September 4th I began leading 880 people as we prepare for Total Consecration to Jesus through Mary on October 7th. Using my daily radio show on BlogTalkRadio, I've been reading and explaining the preparation prayers and meditations. On Saturday, we completed the first stage of the journey – 12 days spent trying to rid ourselves of the spirit of the world. In an attempt to summarize our accomplishments, I sent the following email message to all participants. If you're interested in learning more about this great devotion, please email Me . I guarantee it will change your life!
Congratulations!
We have completed the first phase of the process. It's important to remember that the first 12 days of Preparation for Total Consecration are designed to help rid ourselves of the spirit of the world. More accurately, they are designed to help us recognize the influence that the world has over us. It will probably take a lot more than 12 days to completely rid ourselves of the world's influence, but this period is certainly a start.
What have we accomplished? Here are some questions that should make you think. They represent some of the lessons that we should have learned in the first 12 days.
Are you aware that you have been called to holiness?
Did you dedicate a firm amount of time to spend on the exercises each day?
Have you decided on an act of sacrifice for the remainder of the preparation period?
What are the excuses that you make for not responding to God's will?
Do you boldly proclaim the truth of the Catholic Faith or do you sometimes hold back, choosing the path of least resistance?
Do your external religious practices match your interior devotions or are you sometimes hypocritical?
What is your most common temptation and how do you fight against it?
Have you decided when you will go to Confession during the preparation period?
Which of Mary's virtues have you chosen to imitate?
Have you identified a persistent sin in your life that you are not fighting against? Why not?
How can you better participate in Mass on Sunday?
In your daily life, how can you become a light in the darkness?
If you think you could have done better during the initial period, don't panic. Instead, be thankful that you are aware of your shortcoming and use this knowledge to try to do better in the next phase. Be aware that the evil one doesn't want you to complete this process and will do everything in his power to get you to quit. One of his favorite ways is to make you think that you're not doing a good job. DON'T FALL FOR IT!!!
May God bless each of you as you continue on the journey which will bring you closer to Him! Let me know if I can be of service to you.
In Christ,
Gary