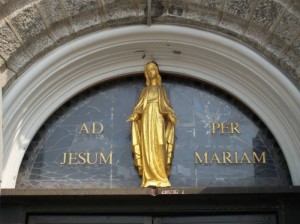 "At first, it had seemed to me that I should distance myself a bit from the Marian devotion of my childhood in order to focus more on Christ. Thanks to St. Louis de Montfort, I came to understand that true devotion to the Mother of God is actually Christocentric; indeed, it is very profoundly rooted in the mystery of the Blessed Trinity, and the mysteries of the Incarnation and Redemption." (Blessed Pope John Paul II, Crossing The Threshold of Hope)
It is with great pleasure that I finally get to reveal the BIG announcement. I'm going to get right to the point and then I'll fill in some of the details.
On September 4, 2011 I will begin the 33 day period of preparation which will result in consecrating myself to Jesus through Mary on October 7, the feast of Our Lady of the Rosary. Often referred to as the St. Louis de Montfort Consecration, this Church approved devotion has the ability to transform your life. As a result, I am inviting as many of you as possible to make this consecration along with me.
In order to make it easier, I will be devoting all of my Following The Truth radio programs during this period to the necessary preparation prayers. While you can say them on your own, you can simply listen to the program on BlogTalkRadio each night at 8 PM Eastern (or download the podcast from the BTR archives or iTunes) and we'll do it together!
The Total Consecration is divided into themes:
Days 1-12: The Spirit of the World,
Days 13-19: Knowledge of Self,
Days 20-26: Knowledge of Mary,
Days 27-33: Knowledge of Jesus,
Day 34: Total Consecration to Jesus through Mary.
How did this come about, you ask? While I was at the CMN Trade Show a few weeks ago, I had the pleasure of meeting Ray Mooney, the National Coordinator of Parish Consecrations for the My Consecration apostolate. This group is dedicated to promoting the advancement of St. Louis de Montfort's Total Consecration to Jesus though Mary. Although I have made this consecration in the past, I've been wanting to renew it for some time. Additionally, I was thinking about a way that I'd be able to invite as many of you as possible to participate. After meeting Ray and watching his video presentation, I made the decision to use the resources of my Following The Truth apostolate to facilitate this process.
If you're interested, send me an email at gary@followingthetruth.com (no message is necessary, just put the word "Mary" in the subject line) so that I'll have an idea of how many of you will be doing this with me. Please share this invitation with as many people as you can. There is no cost and no vows are involved. You're simply expressing the desire to become a better person and taking advantage of Mary's help. It's a great deal!
Please take a few minutes to watch the following video presentation featuring Cardinal Justin Rigali, the Archbishop of Philadelphia. I also invite you to click on the banner at the bottom of this page if you wish to find out more information about the devotion or to receive your own devotion book and DVD, totally free of charge (although the group does appreciate donations).
Still not sure if this is for you? Listen to the Following The Truth radio program tonight at 8 PM Eastern (or download the podcast from iTunes or the BlogTalkRadio archives). I'll also be blogging more throughout the week.
I promise you that this devotion will change your life. Order your materials and get ready…we begin on September 4th!