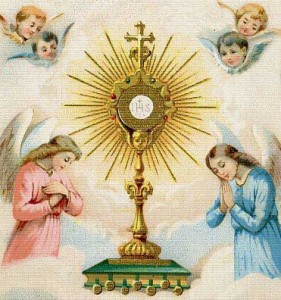 All my sermons are prepared in the presence of the Blessed Sacrament.  As recreation is most pleasant and profitable in the sun, so homiletic creativity is best nourished before the Eucharist.  The most brilliant ideas come from meeting God face to face.  The Holy Spirit that presided at the Incarnation is the best atmosphere for illumination.  (Archbishop Fulton J. Sheen)
As I sat in the adoration chapel this evening, I felt peaceful and blessed to be in the presence of Our Lord in the Blessed Sacrament.  I prayed, talked to Him and asked for advice.  Sadly, for years I neglected to visit Him even though the chapel was within walking distance of my house.  I now find myself looking forward to visiting Him each week for adoration.  In fact, I often stop to say "hi" for a few minutes on the way home from work.  The peace I feel being in the Lord's presence is something that is beyond compare.  While I'm there, I suddenly think of solutions to my problems, get ideas for articles and feel safe….Something truly supernatural takes place in that chapel!
Many holy men and women have written about the importance of visiting Our Lord in the Blessed Sacrament and I'm starting to see what they mean.  It took me a while, but I finally "get it"! 
Thanks for being patient with me, Lord…I can't wait to visit you again soon!